What is EchoLaser EVO?
EchoLaser EVO is an innovative and unique system to perform EchoLaser Therapy on soft tissues under real-time US guidance.
EchoLaser EVO, thanks to integrated EchoLaser Smart Interface (ESI) technology, allows the visualization of fiber insertion trajectory through dedicated needle guides mounted on US probes of a variey of ultrasonic systems.
A dedicated simulation software allows the user to plan the treatment and to easily reach and treat tissue even in hard-to-reach anatomical sites.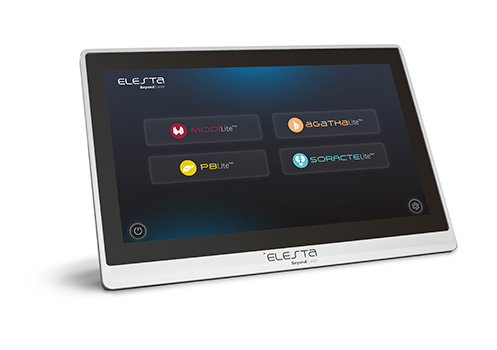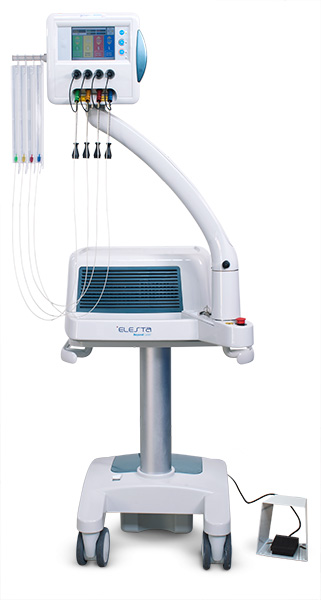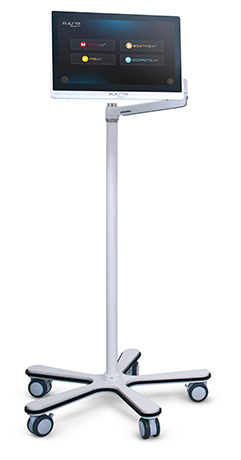 EchoLaser Smart Interface
Table configuration
EchoLaser Smart Interface
Mobile configuration on stand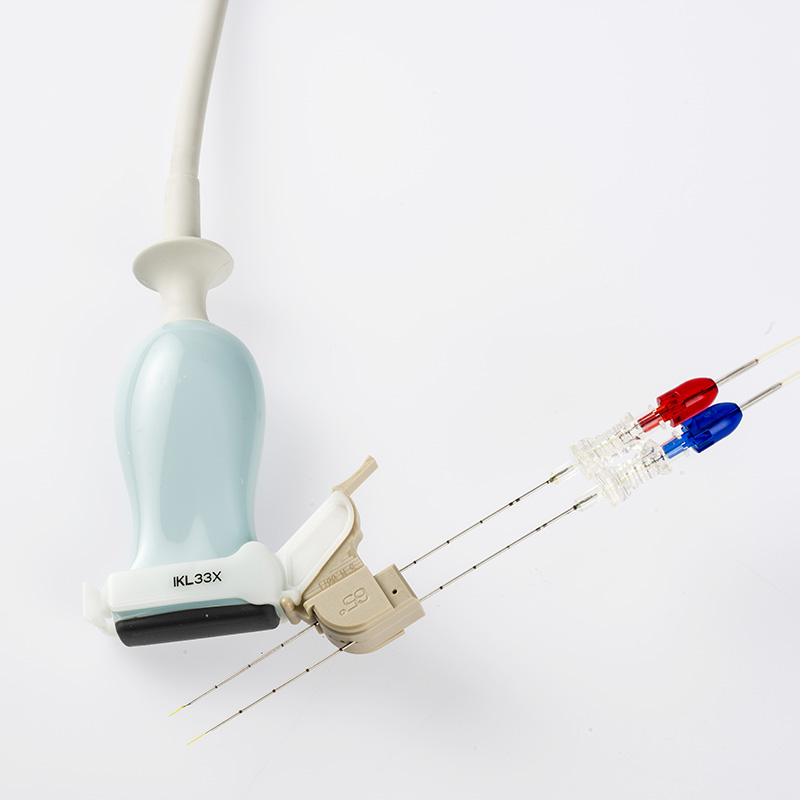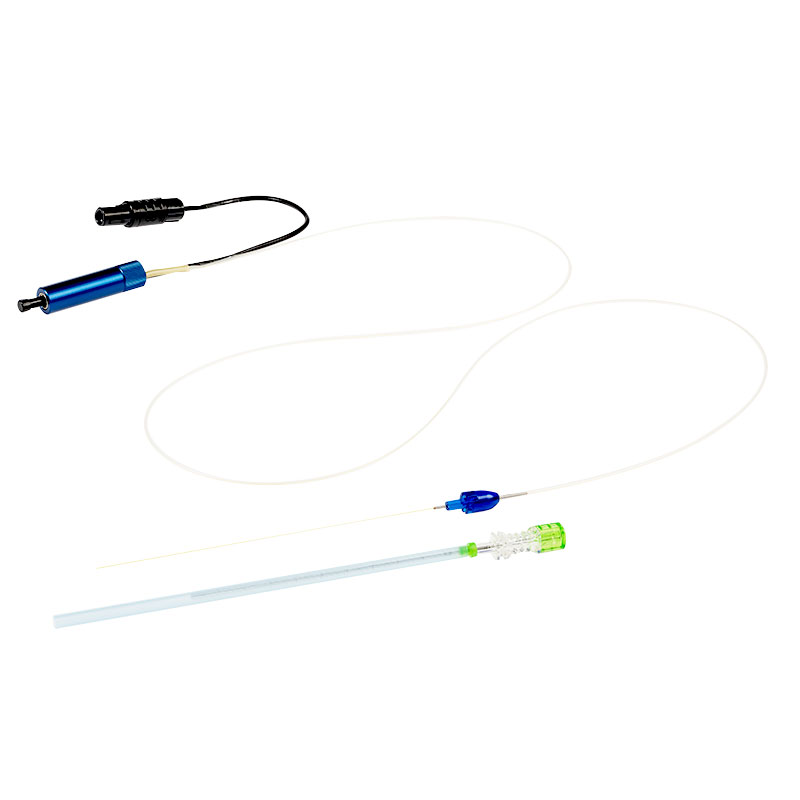 Clockwise:
1./2./3. Dedicated Multi-Fiber Guiding System with optimized insertion
angles*
4. Disposable optical fiber kit (patented)
Advantages
Localized thermal destruction of the lesion through micro-invasive approach
No general anesthesia, no hospitalization
Planning and real-time monitoring of the treatment
Accurate prediction of the needle path
Increased physician's confidence
Real-time visual support
The US image provided by the US system to which EchoLaser EVO is paired is replicated in real-time on ESI, allowing the user to control the correct positio- ning of the fibers in the tissue to be treated and providing a visual feedback throughout the treatment.
Pre-treatment planning
ESI allows the physician to choose the safest needles insertion trajectories and, thanks to the planning software, the most suitable among various treatment options (number of fibers and dose of energy to be delivered) for each specific case.
Planning Verification
ESI software allows the physician to verify needle placement in the target tissue
US System coupling
ESI is an active medical device capable of capturing the video image supplied by the relevant peripheral device present on specific selected ultrasound devices, representing graphic patters indicating the trajectory of introducer needles and graphic signs indicating the treatment area/zone on top of the ultrasound image that can be used to improve needle positioning to perform the thermal treatment.
System components
EchoLaser unit (2 or 4 channels, depending on the system configuration)
EchoLaser Smart Interface (ESI) unit with planning and simulation software
Dedicated guiding systems for needle insertion
Available configurations
EchoLaser EVO ModìLite – for head & neck applications
EchoLaser EVO SoracteLite – for urinary system disorders
EchoLaser EVO PBLite – for primary and secondary malignant liver cancers
EchoLaser EVO Total – for all Elesta applications
EchoLaser EVO is not yet available for sales in USA – Specifications subject to change without notice